FOREWORD
(no pun intended here)
Sustainability in the clothing industry. It's a topic that gained more and more attention over the past few years. It is also a term that has many definitions.
Personally, I believe that it is not an option anymore to create clothes with ethical and sustainable practices in mind – it's a must.
Ocean Meets Green is part of the change for a more transparent and sustainable clothing industry by creating eco-conscious golf wear handracfted ethically in Poland.
Read on to find out what sustainability means to Ocean Meets Green and how the brand creates golf clothing that is better for the people and the planet.
FABRIC
The MOANA polo and the TIDE skirt are made with 100% ECONYL® yarn.
ECONYL® regenerated nylon is made from recovering nylon waste such as old fishing nets, fabric scraps or old carpets.
These are all items that would otherwise end up in landfill or polluting the ocean. But thanks to ECONYL® they're given a second life. By rescuing and regenerating this waste and then spinning it into yarn, ECONYL® is turning trash into treasure. And then we're turning it into your Ocean Meets Green pieces. 
To read about the process in detail, head to the blog post about ECONYL®.
BUTTONS
The buttons on the MOANA polo and the TIDE skirt are made from the corozo nut, which is a are natural product.
Corozo is a tropical palm, found in South America. It's large fruits contain seeds that can be made into buttons. The seeds can only be collected after the fruit is ripe and naturally falls from the palm.
As they grow in the wild, often in areas that are unsuitable for farming, corozo production does not lead to deforestation (like many other farming activities do).
Because they are also extremely durable, they are a great alternative to plastic buttons.
THE MANUFACTURER
Personally, I think that ethical manufacturing is part of the term sustainability. That's why I wanted to work with a manufacturer who I could visit and speak to and get an impression of the working environment.
After a very long search, I finally found a small family owned sewing studio in Poland. It is run by a couple who employ a handful of seamstresses.
I first visited them in January of 2022 and immediately knew they would be a great fit. To this date I am grateful to have found them as their work is of great quality.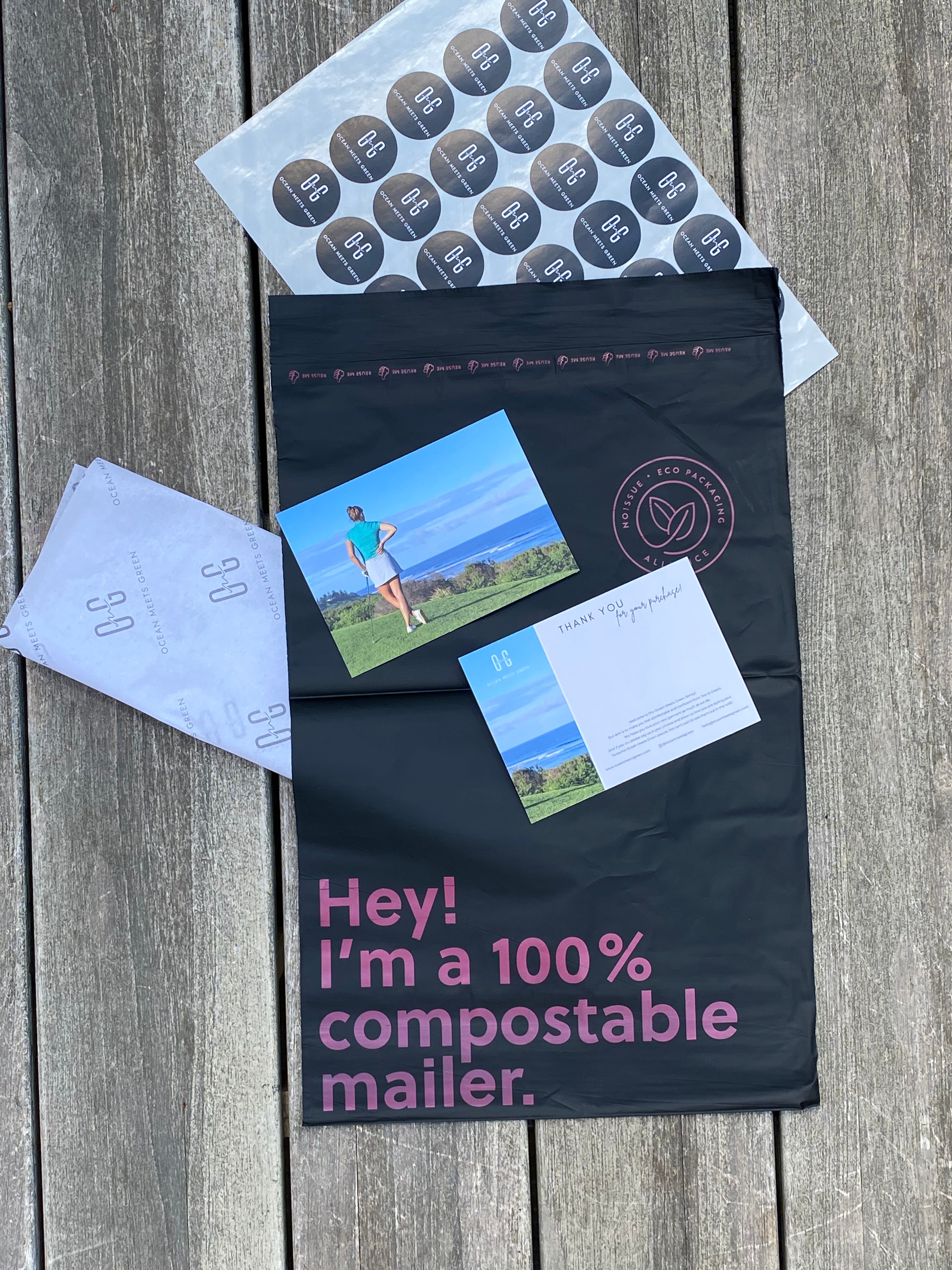 PACKAGING
It is important to me to use eco-conscious alternatives wherever possible. Which also includes packaging items:
Mailer Bags - The mailer bags I use for sending your items are made from mostly plant-based materials and corn starch, which makes them certified home compostable.
Shipping Labels - What's a compostable mailer bag without a shipping label that's at least as eco-friendly..? Exactly. That's why I chose 100% compostable and recyclable shipping labels.
Tissue Paper and Sticker - You will receive your order wrapped in tissue paper. But let me tell you, this is no standard tissue paper! It is 100% compostable, acid free, printed with soy-based ink and 100% FSC-certified paper. And so is the sticker on top of it. Pretty cool, right?